Hazard Analysis and Critical Control Points (HACCP) is an effective and rational means of assuring food safety from harvest to consumption. Preventing problems from occurring is the paramount goal underlying any HACCP system. It comprises seven basic principles: hazard analysis, CCP identification, establishing critical limits, monitoring procedures, corrective actions, verification procedures, and record-keeping and documentation.
HACCP is thus a crucial framework for ensuring that the end product is ready and safe for consumption. Or, more specifically, it looks to introduce checks and standards that reduce risks as far as possible. The reduction in chemical, physical, and biological risks to people is its primary objective. With the changing trends in food consumption, it is imperative to have a standard quality check and ensure food safety for all.
Also Read: Seven Ways to Upgrade Your Quality Management System (QMS) in 2022
Critical Control Point Vs. Critical Quality Point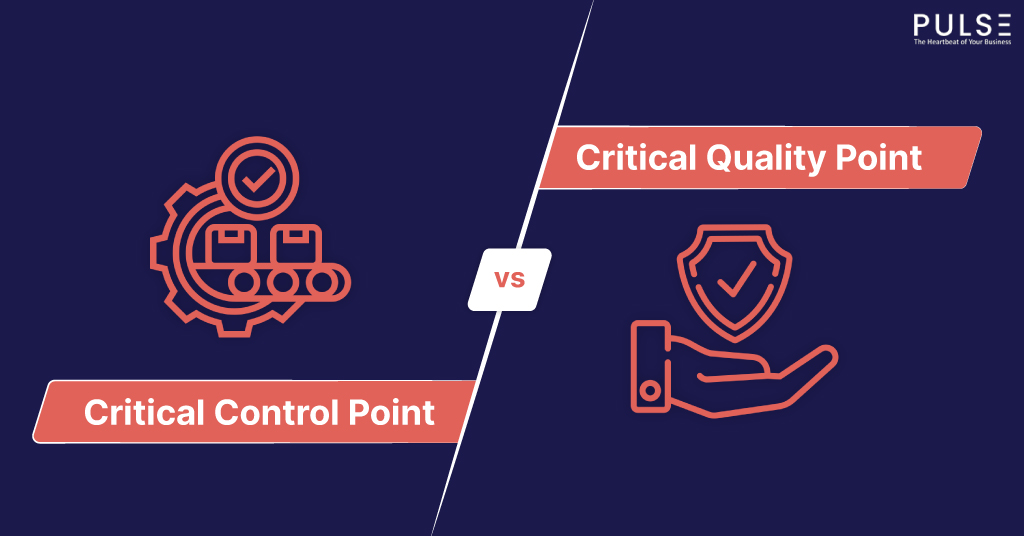 Critical Control Point is the next stage after hazard analysis. Once risks have been noted and evaluated, it's time to identify the exact points in the food manufacturing process at which the risks may arise and could ultimately be controlled. These CCPs (critical control points) can be anywhere where you're able to introduce any controls.
For example, if you're cooking a piece of meat that needs to be at a certain temperature to be safe, a CCP could be the point at which you decide whether or not the item has been cooked safely and is ready to be served to a customer.
In order to identify CCPs, it is essential to know how it is different from a Critical Quality Point (CQP). The best stage to identify the difference is hazard analysis, which can be done in two parts. First, we look at the ingredients and the packaging materials of each product at each plant, and second, we look at the actual process, including an allergen assessment.
A CCP is defined as the most effective point in the process at which control, when applied, will prevent, eliminate, or reduce a food safety hazard to or below an acceptable level of safety, whether that is an FDA or USDA action level or the company's own food safety standard.
A CQP is a step (point, procedure, operation, or stage) in food production at which control can be applied and where control is essential to prevent or reduce quality loss in a product. Critical Quality Points are usually identified during brainstorming in safety HACCP based on internal knowledge and experience, and no strict systematic and science-based methodology is used.
Unlike CCP, which necessitates a decisive point of control, CQP is a state of monitoring for control purposes that do not necessarily prevent or eliminate a food safety hazard at the actual point in the process.
Also Read: All You Need to Know About HACCP Certification?
Key Differences between CCP & CQP
CQP implies identifying the quality of raw materials, tools, and other aspects used in food processing. In contrast, a CCP is a condition that has to be met in order to get the desired product.
If a raw material is faulty or beyond the expiry date, then this aspect should be categorized under CQP. The only actionable in the case of CQPs is to replace the raw materials completely to meet quality standards.
In comparison, there are many ways to work around an identified CCP.
For example, cooking meat at a specific set temperature to get the desired crispiness and taste comes under CCP, while if the meat used itself is rotten to a certain degree, then it becomes a CQP and has to be immediately replaced.
CQP cannot be considered under CCP since once you identify a CCP, it has to be monitored and regulated until the end product quality standards are met. Whereas a CQP, once identified, means there is no option but to reject the raw material or tool in question.
CQP should ideally be identified at the very beginning of the food processing. Whereas CCPs can be identified at every stage of the process and can be rectified or calibrated in accordance with the agreed-upon framework.
The categorization and distinction between CCP & CQP is a very stringent and sensitive aspect. It requires a tool that can assist in streamlining the complex procedures involved in the same.
Also Read: How to Implement HACCP Successfully at a Food Processing Plant?
Maintain Your Brand Value With Pulse
Adhering to quality standards is not only important as a brand but also crucial to avoid any legal implications resulting from improper HACCP execution. This is where Pulse comes into the picture. Pulse is a digital audit and inspection tool that seamlessly lets you manage your team and your assigned tasks.
With Pulse, the following aspects of HACCP can be taken care of:
Built-in templates that are easy to use and get you started with your audit.
Schedule a daily/weekly/monthly/ad hoc inspection for your team in minutes and assign tasks.
Share the completed safety reports with other teammates for evaluation.
Assign actions to relevant individuals or groups for rectification, which facilitates resolving problems on the spot.
Pulse helps you stay ahead of the curve and get a faster turnaround time by automating all the audits. In addition, you can delve deeper into the software by watching the free demo on their website.